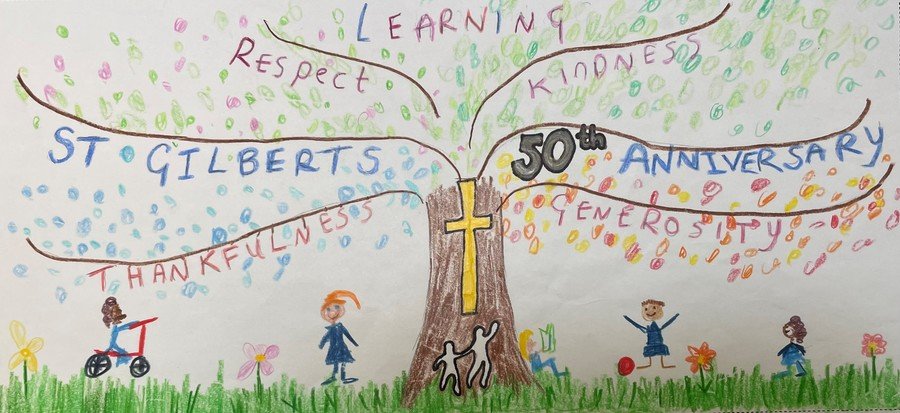 History of St Gilbert's and 50th Anniversary Celebrations
The 21st November 2022 marked the 50th anniversary of St Gilbert's Church of England Primary School on Foundry Road
St Gilbert's Church of England Primary School, formally known as St Gilbert's of Sempringham CofE Primary School, was formed when three of the oldest schools in Stamford, All Saints', St Martins', and St Johns', were amalgamated, moving into the building on Foundry Road.
In 1604, founder of All Saint's School, Edward Wells, a shoemaker, left his house in his will and land in St Peter's Street for the 'virtuous education' of the children of the town. Over 400 years later, we are very proud that St Gilbert's still holds virtues close at the core of its ethos and in all we do.
On Friday 18th November, we invited past and current families, staff and trustees to join us as we celebrated the 50th anniversary of St Gilbert's on Foundry Road.
We were so pleased to welcome our guests, each with their own special connection to the school, and it was wonderful to reminisce, share and swap stories of 'what it was like' when they were at St. Gilbert's. Visitors enjoyed tours of the school conducted by St. Gilbert's Y5&6 children followed by tea & cake!
As part of the celebrations, a time capsule will be buried on the school grounds. Children have written to tell future generations their predictions for what the world will look like, the change in monarchy, and what lockdown and home learning was like for us all.
St Gilbert's is a very special place, and we look forward to the next 50 years!
Please enjoy our selection of photographs from the event in the galleries below. PHOTO CREDITS: LUCY GLEN
Photo galleries from the 50th anniversary celebrations